Gallery Plus is a new listing option for your eBay auctions. At $0.75 ($2 for eBay Motors), it won't break the bank, but it does seem rather pricey for what you get.
Basically, it shows the potential bidder an enlarged photo of your item right from the search results page. They hover the mouse over the thumbnail image, and it will display an enlarged version: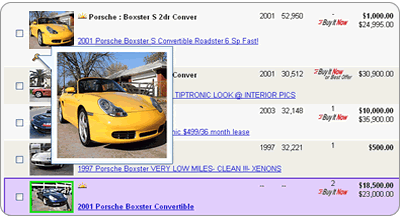 The price does include your usual $0.35 Gallery listing fee, so you are essentially paying an extra $0.40 for this option. If you have an item that really sells itself in the picture, then this option is probably worth trying out.
If you are going to use Gallery Plus, it is imperative that you take an exceptional photograph. If the bidder is not sold on your item from the enlarged photograph, they will never click on your auction. If they don't click through, then they will never see the winning auction description you wrote.
I cover how to take professional quality photographs for your auctions in my recent book, Online Auction Photo Secrets. If you are not good at taking photographs, I would avoid the Gallery Plus option until you get better.
If you use Gallery Featured, the Gallery Plus option is already included in your fee.
Unfortunately, Gallery Plus is only available on pictures hosted with eBay Picture Services.